In 2015 a small group of supporters formed the fabulous Friends of Thingamajig Theatre to create a social environment in which the theatre can grow and prosper. It has quickly become one of the favorite social organizations in Pagosa Springs with over 200 members in its first year, as well as a big selling point for national actors when convincing them to come to our awesome community!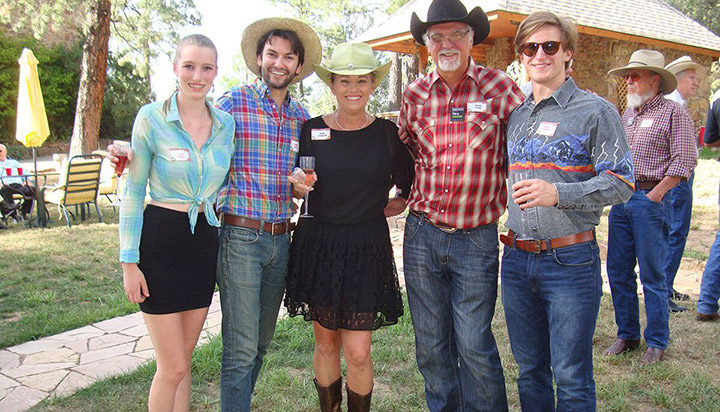 What do the Friends do? Well, to be honest we are making that up as we go along. We hosted a Welcome Party to welcome and socialize with the incoming Summer Company, as well as a Happy Trails Party at the end of the summer and a Christmas Party with the fabulous December Casts. We spend a day every summer picnicking and canoeing at Williams Lake. We also established a tradition called Tech Tuesdays where a group of volunteer Friends cook a dish and bring it to feed the hectic Company the Tuesday before a show opens. Tech Tuesdays are becoming some of the Friends favorite events, as they get to jump in the world and join in the busy, fun and lively energy that it takes to put on a show, plus it is a great way to get to know the actors, who lead a life on the road and greatly appreciate a home cooked meal! Friends help pick up or drop off actors from the Durango Airport. (That's how we know this relationship is for real!) Friends also like to be a resource for random request from the Theatre: Who has old wooden oars we can borrow for Little Mermaid? Plus, we are starting to think of ways we can help with fundraisers — for example, the Friends are holding a garage sale this September to benefit the Theatre! Mark your calendars!
What does the Theatre do for their Friends? We love them and tell them all our secrets! Seriously. We started the Behind the Scenes events exclusively for our Friends where we let them in all the theatre secrets. The theatre did a super popular session on Costuming and Make Up, where we held quick change races and demonstrated Tarzan make-up and made a costume for a Friend right on stage. We also did an information session on Scenic Design, Directing, Casting and the heady Thingamajig in Numbers- a look at the business side of things. The Behind the Scene Series has been really well received- we keep an open question and answer running throughout the demonstrations and the Friends get to ask anything they want and they are often surprised by our answers!
What kind of commitment do I have to make to be a Friend? Being a Friend comes with no time obligation. The only commitment required is the $25 per year membership fee.
Why do we pay a Membership Fee? (I mean I thought we were friends). The membership fee is a pool of money that the Friends use to purchase food, beverages or decorations for the social events, or that the Friends can use to do awesome things for the Thingamajig Cast and Crew, in the first year the Friends sent the Company tubing down the San Juan River and Skiing up Wolf Creek. After the fun activities, the left over funds get donated to Thingamajig to keep up their amazing artistic work! Since inception, the Friends have donated $2,000 to Thingamajig Theatre.
How do I become a Friend? Click here to visit our "Friends" page and use the link there to join or renew. You can also sign up at a show with the Theatre Staff… or you can send a check to Friends of Thingamajig Theater Company, 2313 Eagle Drive, Pagosa Springs, CO 81147. Be sure to include your contact information including your email, telephone and address.
The majority of information with the Friends gets communicated via email. Make sure you provide your current email when signing up.
I have more questions, what do I do? If you have any questions, suggestions or would like to volunteer for Friends, please contact our fabulous Chairperson, Simon Fuger through email at thingamajigfriends@gmail.com