The Pagosa Springs Center for the Arts is a lively place in the summer, when Thingamajig Theatre Company presents four major musicals running in repertory, an educational show in development, concerts, art shows, over 40 out-of-town artists, designers and performers rehearsing and performing — dancing, singing, acting — six day a week for three months straight.
And right in the middle of all this artistic excitement is the Whatchamawhozits Children's Theatre Summer Camp. This super fun and wildly popular summer camp is in its seventh summer at the Center for the Arts. The camp works with 7 to 12 year olds (special requests for 6 or 13 year olds are allowed pending approval), teaching them all the aspects of the craft, and is taught by the professional performers who come to Pagosa Springs to perform in Thingamajig's main stage shows.
This summer (2017) the three-week camp runs from July 3 to July 20, Monday through Thursday from 9am to 3pm with a public performance of 'Willy Wonka' on July 22 at 2pm and July 23 at 6pm.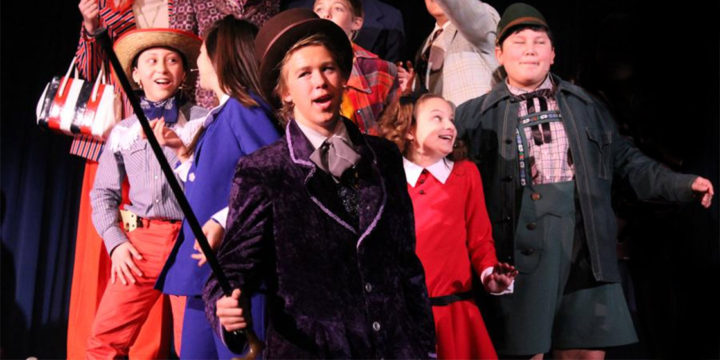 From singing to costumes design, from dancing to character development and storytelling, from painting with lights to aerial silks… theatre is the place where all the art forms come together and create collaborative masterpieces. Theatre also teaches students the valuable life skills of teamwork, collaboration, public speaking, articulation, critical thinking, self-confidence, physical fitness and above all empathy.
Parents can choose the weeks of camp that best suit your family's schedule.  Students can enroll for the first week of camp ONLY — which focuses on acting lessons, theatre games that develop tools of the trade and lessons in all the other fun aspects of theatre… like how to make gnarly scars in make-up class — or sign up for BOTH of the last two weeks, to prepare for and participate in the 'Willy Wonka' performance. Or you can enroll your student for all three weeks!
The final two weeks will focus on all the aspects of putting a show on its feet with a performance of a 'Willy Wonka' at the end of camp on Saturday, July 22 and 23. Camper's registration includes an invitation to see the main stage production of Big River: The Adventures of Huckleberry Finn, on Sunday July 9 at 2pm, which features all their camp counselors!
First week cost is $150… total cost for 2nd and 3rd weeks together is $300. All Three Weeks: early registration cost is $350; late registration cost is $400. Early bird registration is available until June 1, which gets you the great deal of a three-week camp costing only $30 per day. You can't find a more economical, educational and fun program for your children in the summer. (NOTE: Early Bird registration fees are Non-Refundable.)
IN ORDER TO REGISTER:
Email thingamajigbox@gmail.com with the following information:
EMAIL SUBJECT: Child's Name Registration.
EMAIL BODY: Child's Name, Age, Parent's Name, Email, Phone Number, Medical Conditions, Choice of 1st week, 2nd and 3rd week, or ALL Weeks.
PAYMENT: Mail a check to Thingamajig Theatre Company 2313 Eagle Drive, Pagosa Springs, CO 81147 with your child's name in the MEMO. (Your child will not be considered registered until payment has been made.)
What parents say about Whatchamawhozits:
"THANK YOU for your awesome work with the kids during the Improv class. It was great fun to watch their growth."
"Many thanks for your invaluable instruction & encouragement to all the kids in the Whatchamawhozits program. [My son] had a blast and it was a fun program to watch on Saturday."
For additional questions on the best summer activity in Southwest Colorado, please contact Laura Moore at laura@pagosacenter.org or by calling 731-7469.