February 8th – February 17th
by Karl Isberg
Karl Isberg, author of the wildly popular "Welcome to Siberia, Now Go Home!", is back with another dark comedy full of Pagosa Springs flavor.

This new Isberg show is filled with the same dark, yet charming humor quintessential to his writing. "Cerebrotini" opens up on a hospital room where Fiona is being treated for a coma. Surprisingly, Sylph can communicate with her despite her medical condition. Through strange cocktails and a cacophony of some outlandish Pagosa Springs tales, we walk through Fiona's life and ask the ever-present question "are there cocktails in the afterlife"?

Isberg has lived in Pagosa Springs for over 30 years. In 1987, Isberg began writing for the Pagosa Sun and became editor in 2001 before retiring in 2014. He now runs the blog "Siberia With a View". Last year, "Welcome to Siberia, Now Go Home" was met by rave reviews and received an extended run to accommodate the intense demand for tickets. "Cerebrotini" is saturated with the same Isberg wit as his Siberian hit.
Content Warning
This show contains strong language and references to sex and alcohol.
In the Media
Feature – "Cerebrotini" Opens February 8th!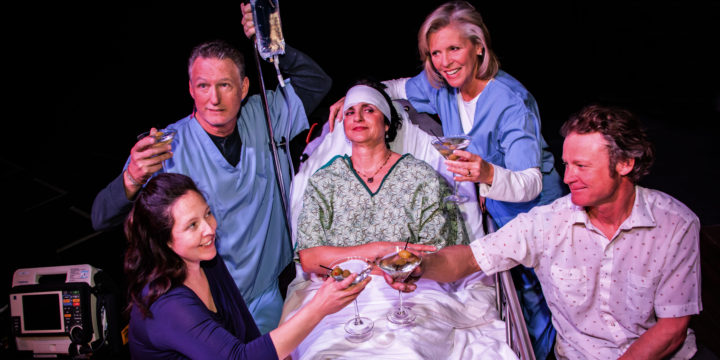 Check out the featured article about this hilarious show on the Pagosa Daily Post and the front page of the Pagosa Sun Preview!
Spotlight – Karl Isberg, a Chat with the Writer and Artist
Read this fascinating interview with the playwright, Karl Isberg, on the Pagosa Daily Post and Pagosa Sun Preview.
Meet the Cast
Kathy Lemons – Fiona

Roger Organ – Sylph

Terrie Frahm – Doctor

Steve Lemons – Doctor

Jenny Highum – Stepdaughter

Jefferson Quinn – Stepson
Our Exciting 2019 Summer Season