VIDEO: Thingamajig Theatre 'Broadway Gala' Fundraiser Sets New Record
By Tess Wisher, published August 6, 2018 in the Pagosa Daily Post.
At 5pm on Tuesday, July 31, over 100 people lined up outside the doors of the Pagosa Springs Center for the Arts for Thingamajig Theatre's Annual Broadway Gala Fundraiser. Throughout the night of fine food and exquisite live performances, a fierce competition heated up for many of the unique auction items available exclusively through the Gala.
Dan Morrison, a Thingamajig company member, emceed the event with passion, keeping each auction competitive and thrilling.
All of the auction items, like the "Jaunts with Jets and Brunch with Blondes", included personal time with Thingamajig Theatre Company Members eating, hiking, playing games, and enjoying the company of the talented performers from all over the country. In between breathtaking performances like "The Man that Got Away" sung by Charlie Tingen and the ABBA smash hit "Super Trooper" performed by Heather McCall, Marion Bienvenu, and Hannah Zilber, auctions heated up for all items, especially the Progressive Dinner and the Dinner with Professional Chef Joanne.
Once all the live and "not so silent" auctions had taken place, the floor was open for donations. An anonymous donor matched the first $31,000 of donations. In a spirited moment of philanthropy and love for theatre, Thingamajig reached the $31,000 mark quickly. It was then that another anonymous donor opened their hearts and promised to match any further donations that evening. For every dollar donated, the donor promised two. It was in that moment that the real love this entire community shares for this theatre was palpable. People in the audience opened up their hearts, and the donations came pouring in…
---
REVIEW: 'Ring of Fire' Heats Up Thingamajig Theatre Stage
by Cynda Green, published May 23, 2019 in the Pagosa Daily Post.
I grew up on the East Coast, and lived most of my life on the West Coast, so that may explain why Johnny Cash was never on my playlist.
Last weekend I attended Thingamajig Theatre Company's summer season opener Ring of Fire at Pagosa Springs Center for the Arts. I knew nothing about the show, other than it featured Johnny Cash songs. Was it musical theatre, a musical revue, or a Johnny Cash tribute concert? I didn't know, and still don't know, but, between the prologue and "A Boy Named Sue" encore, I became a Johnny Cash fan. That's how powerful this production is. Not just a fan of his music, but of Johnny Cash the man who struggled to understand and overcome his troubled life.
The 2006 Broadway Ring of Fire, conceived by William Meade and created and directed by Richard Maltby Jr. has an interesting history. According to Meade, he was one of many who approached Johnny Cash with the idea of putting his music on stage. It took five years, but finally, and shortly before Cash's death in 2003, Cash gave Meade stage rights to his material.
In turn, Bill Meade asked Richard Maltby Jr. (TONY award winner for Ain't Misbehavin' and Fosse) to become involved as creator and director. In his essay titled "The History of 'Ring of Fire'" Maltby Jr. says:
"When Bill asked me to create a theatrical show out of the music of Johnny Cash, he gave me a stack of CD's and books about two feet high (and rising). I listened and read and began to think, and two things became immediately clear. First, we shouldn't attempt to put Johnny Cash himself on the stage. The persona, the voice, are unduplicatable, and the very best we could achieve would be a poor imitation. Second, as interesting as Johnny Cash's life was, dramatizing it on the stage (it seemed to me) would only lessen, not enhance, it."
The original 2006 Broadway show enjoyed a 49-day run. Do not despair. Ring of Fire was revamped by Richard Maltby Jr. in 2013 with a Ring of Fire Small Cast Edition, featuring five musician/actors. To quote Theatrical Rights Worldwide, "The new, streamlined song showcase features a cast of five actor/musicians. The remarkable story of Johnny Cash and his music is searing and arcs with an exhilarating concert experience that is unforgettable."
The Small Cast Edition is what Thingamajig brings to their stage, and it does, indeed, tell the story of Johnny Cash's life through his music in an intimate way that draws the audience into the performance. Director Christopher Willard made excellent choices in staging this production…
---
A Fond Farewell to Thingamajig's Winter Season Actors
by Carole Howard, published January 25, 2019 in the Pagosa Daily Post.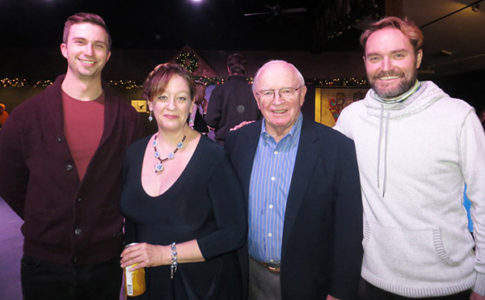 Scene … at the Friends of the Thingamajig Theatre's farewell dinner and dance for the Thingamajig Theatre Company Christmas cast. Tim Sullivan and his band played country and pop music for enthusiastic dancing. Thingamajig Theatre is a professional nonprofit 501(c)(3) theater in residence within the Pagosa Springs Center for the Arts producing musicals, comedies and dramas year-round…
See more photos here in the PAGOSA DAILY POST
---
Thingamajig's 'Proof' wins big with other PSCA artists also honored in statewide theatre awards
by Carole Howard, published January 17, 2019 in the Pagosa Daily Post
Thingamajig Theatre Company's production of "Proof" at the Pagosa Springs Center for the Arts in May 2018 swept the drama awards in the 2018 statewide contest sponsored by BroadwayWorld Denver, according to results announced in Denver on January 8.
"Proof" won a total of seven awards, taking all but one honor related to the "best play" category: Dennis Elkins, best actor; Christina Norris, best actress; Dan Morrison, best supporting actor; Melissa Firlit, best supporting actress; John Santangelo, best set design; best small ensemble of a play and best play altogether.
Laine Wong was also a stellar Thingamajig honoree, winning two best lighting design awards – for a play for "Circle Mirror Transformation" and for a musical for "West Side Story"…
Read the full article in the PAGOSA DAILY POST
---
THEATRE SPOTLIGHT: Scenic Artist Jill Fives is a 'Ten'
By Cynda Green, published August 2, 2018 in the Pagosa Daily Post.
Photos courtesy Kirk Speer Photography except as noted.
Jill Fives graces the Thingamajig Theatre Company stage as lead scenic artist – creating the painted effects and texture that, along with lighting, bring to life a magical theatre set.
Jill describes herself as "a behind the scenes type of gal." PSCA Executive Director Laura Moore describes Jill as "crazy talented." This summer, Jill Fives leaves her comfort zone to take center stage as PSCA's featured gallery artist. Her show is appropriately named 'Transitions.'
Jill Fives, Scenic Artist
Jill got her degree in Fashion Design, and soon after moved to Tempe AZ to work with a company doing production art for commercials and movies. "That's where I was introduced to scenic painting. I love painting BIG."
In 2003 Jill moved to Colorado and spent ten years as lead scenic artist at the Arvada Center. There she connected with Laura Moore who played the spider in James and the Giant Peach. "I thought she was the most exotic spider ever."
Jill is now in her fourth-year painting full time for Thingamajig. "It was transformative because I was getting burned out with theatre. But Thingamajig has a different approach and it appeals to my inner being. I definitely have a loose, less follow-the- rules mindset, so this place is perfect. It's Thingamajig!
"My construction team is phenomenal and each year I become closer to the volunteers. Thingamajig is an outstanding family"…
---
Pagosa Mounts a Comedic 'Tuna'
By Judith Reynolds, published December 21, 2017 in the Durango Herald.
Among the many parts Dennis Elkins plays in "A Tuna Christmas," a waitress is but one.
He and fellow actor Dan Morrison are appearing for a short run in Pagosa Springs at Thingamajig Theatre, through December 28.
Elkins is well known in the area as former chairman of the Fort Lewis College Department of Drama. He's an Equity actor and director who resigned his position last summer to throw himself full time into acting, directing and writing.
After the final performance of "Big River" in Pagosa last August, in which he played many parts, Elkins said, "If not now, when?"
The plan then, he said, was first to work on a piece he calls the "box," a one-man show he's been thinking about a long time. He also said he would selectively perform and direct when projects appealed to him.
The two-actor, 22-role comedy, "A Tuna Christmas," must have appealed to him because Elkins decided to return to Colorado for Christmas.
"I love being back in this part of the world," he said this week in an interview. "I love working with Tim and Laura (Moore, Thingamjig's artistic and executive directors, respectively) and Melissa (Firlit, visiting director for 'Tuna')…"
---
Thingamajig's 'Damn Yankees' is Darn Good
By Cynda Green; published August 3, 2015 in the Pagosa Daily Post
My made-up definition of quadfecta: a run of four grand events.
I finally completed Thingamajig Theatre Company's summer quadfecta with the musical "Damn Yankees."
"Joseph and the Amazing Technicolor Dreamcoat," "Disney's Tarzan," and "The Secret Garden" round out the repertory season. There are a total of 15 shows left, so there's still time to complete the quadfecta. It's the best way to experience and appreciate the depth of triple threat talent in this summer's cast.
"Damn Yankees" first hit Broadway in 1955. It is the story of middle-aged, die-hard Washington Senators fan Joe Boyd, who makes a deal with the devil (Applegate) to help the Senators win the pennant from the Yankees. The deal involves selling his soul and abandoning his wife to become the young slugger star Joe Hardy.
The 1955 production was fondly reviewed in the N. Y. Times, but, right off the bat, had the following caution:
"George Abbott (Book and Director) has not been able to iron out all the kinks in his combination. In spite of his emphasis on speed afoot and timing there is a tendency every now and then for things to settle down a bit flatly on the ground…But the story succeeds in being a sufficiently satisfactory vehicle on which to hang some highly amusing antics and utilize some splendid performers."
…
Fast forward to 2015, and Thingamajig's "Damn Yankees". Everyone, everyone, in this ensemble cast gave a solid performance. The acting, singing and dancing were a joy to listen to and watch. Triple threats all…
---
The Highbrow Road Trip
By Judith Reynolds; Published July 30, 2015 in the Durango Herald
Mounting its second season of four musicals, only a summer company of dedicated theater rats – all graduates of solid drama and musical comedy programs across the country – would attempt something as crazy as staging multiple musicals in repertory, meaning they'll be the star in one and chorus in another.
From "Damn Yankees" to "The Secret Garden" and "Joseph and the Amazing Technicolor Dreamcoat," the range is impressive, although I was skeptical of "Tarzan." My taste doesn't run to Disney's sugar-coated classics, but I wanted to see how the company mounted this version of the Edgar Rice Burrows 1912 story.
…
Pagosa Center has a huge, high-ceilinged lobby, which has been transformed into a jungle. A bamboo forest serves as a lush backdrop with massive artificial trees arching forward laden with vines, a.k.a. swinging ropes. A canopy of leaves covers the ceiling under which the audience sits, adults in chairs, kids on the floor…
---
'Disney's Tarzan' is a Visual and Emotional Treat
By Connie Papple; published June 29, 2015 in the Pagosa Daily Post
This week I had the privilege of attending the dress rehearsal and opening night of "Disney's Tarzan," directed by Ryan Hazelbaker and produced by Thingamajig Theater at the Pagosa Art Center. The show is stunning and beyond anything I could have imagined. The actors, sets, lighting by Laine Wong, music direction by Boni McIntyre, choreography by Ryan, are amazing!
I had no idea I would get so emotional at the show. On my way home, I'm sure the lady at the Sonic drive-thru wondered why I as crying as I ordered my diet coke.
It's wonderful that Pagosa Springs has such an talented professional theater that's already winning many awards for their work. Tim and Laura Moore have brought to this community something very special. I have been involved in theater and have enjoyed many performances all over the country, and I find that the performances here at Thingamajig are equal or better than anything I have enjoyed. The intimate setting is really enjoyable…
---
Thingamajig's 'Joseph' is Must-See Theater
By Cynda Green; published June 23, 2015 in the Pagosa Daily Post
It has been said that Donny Osmond 'owns' the role of Joseph in the musical "Joseph and the Amazing Technicolor Dreamcoat."
Not anymore.
The big musical "Joseph and the Amazing Technicolor Dreamcoat" opened the 2015 summer repertory season at Pagosa's professional, intimate Thingamajig Theater, showing at the Pagosa Springs Center for the Arts.
"Joseph" is the story of a boy whose dreams come true in more ways than one. The uplifting message is that you could be that boy.
The Andrew Lloyd Webber / Tim Rice collaboration is loosely based on the Bible's Book of Genesis — in particular, the story of Jacob's eleventh son, Joseph. The fast-paced, all-sung production – full of parody and laugh-out-loud humor – is far removed from Bible Study class, yet appropriate for those who study the Bible, as well as those who've never cracked The Good Book.
In fact, this is a musical production for those who've never cracked the door to live theater. In other words, "Joseph" is a musical theater experience made for every Pagosa tourist, resident, man, woman, and child…
---
Pagosa illuminates Picasso
By Judith Reynolds; Published June 4, 2015 in the Durango Herald
With some ferocity, Picasso tells his German interrogator, "I am not a political man."
In an adroitly written, one-act play, "A Picasso," Jeffrey Hatcher has conjured an imaginative confrontation between the artist and a Nazi official.
Hatcher is an American playwright who has adapted literary classics ("The Turn of the Screw," "Jekyll and Hyde") and written screenplays ("Casanova," "The Duchess," and most recently, "Mr. Holmes").
Last Sunday, in a swift-moving production directed by Melissa Firlit, "A Picasso" wrapped up the 2014-15 formal season at the Pagosa Springs Center for the Arts. The company already is in rehearsal for a four-musical summer. But like last year's "Red," also about a contemporary artist, "A Picasso" demonstrates the gutsy choices Tim and Laura Moore continue to make…
---
In Pagosa play, madness and obsession reign
By Judith Reynolds; Published October 13, 2014 in the Durango Herald
Between Macbeth and Thomas Magill there's a certain madness. The question is: What's the difference between a man who kills for personal ambition and one obsessed by a soiled Eden?
…
Thingamajig Theatre Co. in Pagosa Springs has boldly chosen a new work about madness to give the Colorado premiere after successful presentations in New York, London and Ireland.
"Misterman" continues a form of Irish storytelling about life in a small rural village. But it is not a descendant of the famous 1888 W.B. Yeats poem, "The Lake Isle of Innisfree." Instead, it plays against the sentimental images of village life as they have appeared in poetry, prose and film.
"Misterman" is part of an Irish new-wave that includes the black comedies of Martin McDonagh, Conor McPherson, and to a degree Marie Jones' "Stones in His Pockets." The shadow side of village life is not hidden.
Featuring New York-based Equity Actor Craig MacArthur, seen last spring in "Red," and the recorded voice of Olivia Dukakis, "Misterman," tells the story of a young Irishman struggling with insanity. MacArthur plays Thomas Magill, whose father has died and whose aging mother (Dukakis) needs tending. Like many villagers, she appears as a disembodied voice on a recording device, one of many Magill keeps in his cluttered, claustrophobic quarters…