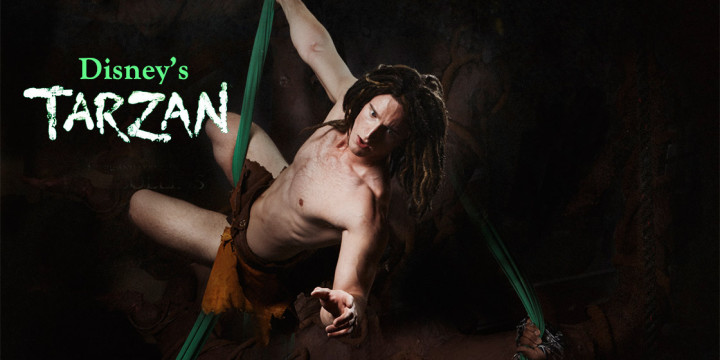 DATES: June 25, 26, 27, 28; July 1, 5, 10, 18, 22, 26; August 1, 6, 15, 21
TICKETS: $30 Adult; $13- Child (Add $10 for Opening Night)
Off the West African coast, a young English couple and their newborn son barely survive a shipwreck and land in Africa. They construct a tree house for their son before being killed by a leopard. In the African jungle, Kerchak, the leader of a tribe of gorillas admires his new infant son with his mate, Kala. The leopard suddenly appears and kidnaps the newborn baby gorilla. Kala goes off to find her son but finds the human boy instead and names him Tarzan…
"Disney's TARZAN" in the Media.
Disney's musical version of the classic Edgar Rice Burroughs novel, Tarzan, appeared in 1999 as an innovative animated movie, and was later adapted as a Broadway musical in 2006, with book by David Henry Hwang, music and lyrics by Phil Collins; presented through an exclusive arrangement with MTI.
For the Pagosa Springs audience, Thingamajig Theatre Company will be transforming its main art gallery space into an African jungle — a work of art, where the actors will be able to move among the treetops while delivering an uplifting tale about the struggle for survival, and the fragile human-gorilla interface first sketched by Edgar Rice Burroughs in 1914. Direction and choreography by Ryan Hazelbaker.
DATES: June 25, 26, 27, 28; July 1, 5, 10, 18, 22, 26; August 1, 6, 15, 21
TICKETS: $30 Adult; $13- Child (Add $10 for Opening Night)