"This winter season is going to be bigger and bolder than any we've previously scheduled," says Tim Moore, Producing Artistic Director of Thingamajig Theatre Company, Pagosa Springs' professional live theater and performing arts education company. "We are capitalizing on the opportunity to create a season full of diversity, from thrillers set in a futuristic, dystopian society, to stories that give women voices, and big family-friendly, Broadway musicals that will appeal to any age all while continuing our mission of introducing young people here in Pagosa Springs to lifelong skills of goal-setting and teamwork through expressive arts education. We want all of Pagosa to join us for this exciting season ahead."
Please join Thingamajig as we present some of Broadway's best plays and musicals for our fifth winter season for you and your family. The shows range from one of the most beloved musicals of all time — Irving Berlin's White Christmas — to laugh out loud comedy classics like Moon Over Buffalo, and Nora Ephron's How to Eat Like a Child.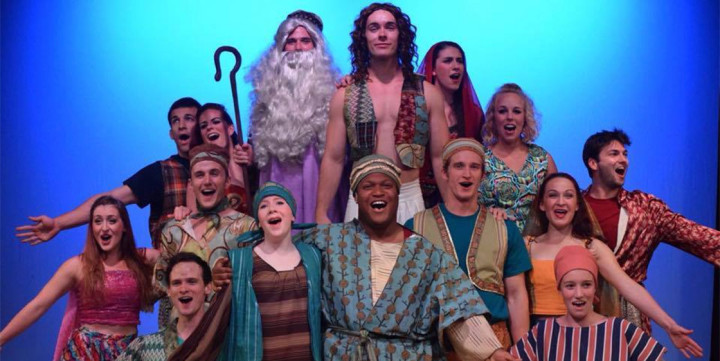 We are especially proud to present two Tony Award-winning dramatic classics, Irish playwright, Martin McDonough's The Pillowman, and Aaron Sorkin's A Few Good Men."
Here's the full list of shows and dates for the upcoming 2015 Winter Season at the Pagosa Springs Center for the Arts:
The Pillowman
By Martin McDonagh
October 9 through November 1
In an unidentified totalitarian state, Katurian faces two interrogators from the local police force. As Katurian soon learns, his stories, in which characters meet grisly and macabre fates, have inspired a string of copycat crimes. As the police resort to increasingly absurd and hilariously unconventional methods to crack the case, Katurian's stories come to life, blurring the line between fact and fiction, truth and storytelling. In 'The Pillowman', Martin McDonagh celebrates with dark humor the spellbinding power of narrative, while exploring the dark corners of the human imagination and the delicate balance between the freedoms of the individual and the security of the state. Winner of 2 Tony Awards. "The season's most exciting and original new play." — New York Times. "Top 10 Plays of 2005" — Time Magazine.
White Christmas
Music & Lyrics by Irving Berlin
Book by David Ives and Paul Blake
December 3 through December 29
Irving Berlin's 'White Christmas' tells the story of two showbiz buddies putting on a show in a picturesque Vermont inn, and finding their perfect mates in the bargain. Full of dancing, romance, laughter and some of the greatest songs ever written, including "Count Your Blessings Instead of Sheep," "Happy Holiday," "Sisters," "Blue Skies," and the unforgettable title song, 'White Christmas' promises to be a merry and bright experience for the entire family!
The New York Times claims "this cozy trip down memory lane should be put on your wish list." The New York Daily News hailed 'White Christmas' as "a holiday card come to life."
Moon Over Buffalo
By Ken Ludwig
January 8 through January 31
From the mind of Ken Ludwig (writer of Lend me a Tenor) comes Moon Over Buffalo, a play that centers on husband and wife acting team George and Charlotte Hay, two fading stars of the 1950s. In an attempt to keep their careers afloat, the couple is producing two plays simultaneously: Noel Coward's Private Lives and Cyrano de Bergerac. Suddenly, George receives word that Hollywood director Frank Capra may be coming to see a matinee performance, giving them one last chance at fame! That is, of course, if they can remember what play they are doing. In short, everything that could go wrong does in this side-splitting, backstage farce full of romance, swordplay, prosthetic noses, and plenty of doors.
How to Eat Like a Child
By Nora Ephron
February 19 through February 28
This hilarious romp through the joys and sorrows of being a child is hilarious. Lessons are given in such subjects as how to beg for a dog, how to torture your sister, how to act after being sent to your room and how to laugh hysterically. The pace is fast, the tone subversive and the recognition instant.
A Few Good Men
by Aaron Sorkin
May 12 through June 5
Before the award-winning film came the Broadway play, written by acclaimed film and television writer Aaron Sorkin (The West Wing, The Social Network, Moneyball, The Newsroom). This electrically charged production interweaves a tale of honor and duty with one's own moral code. Set against the backdrop of NAVBASE Guantanamo Bay, Cuba, two marines find themselves facing a court martial on suspicion of murder. Their hope: Lieutenant Daniel Kaffee, a softball loving Junior Grade lawyer, more interested in a plea bargain than what really happened. Prodded by a female member of his defense team, Kaffee eventually makes a valiant effort to defend his clients and, in doing so, raises questions of what it means to have honor, dignity and humanity in an increasingly complex world. With the current political and ethical national debate centered around the use of torture and 'how far is too far' to keep our country safe – A Few Good Men raises questions that are as topical now, as they were 20 years ago.
Five-show or three-show subscriptions are available today through December 1, 2015. Season Ticket Holder perks include: Discounted Tickets, No Ticketing Fees, Admittance to Champagne Openings (the night includes our popular 'Talk Backs'), Free Come Again Tickets (when you attend the openings), and invites to our Wine and Cheese Season Announcement, Meet the Cast and Open Rehearsal Events.
Individual show tickets will be available beginning September 10, 2015.
Tickets can be purchased online or by calling 970-731-SHOW. The Thingamajig Box Office at the Pagosa Springs Center for the Arts will be open for walk-ins every Tuesday in September from 11am until 4pm.